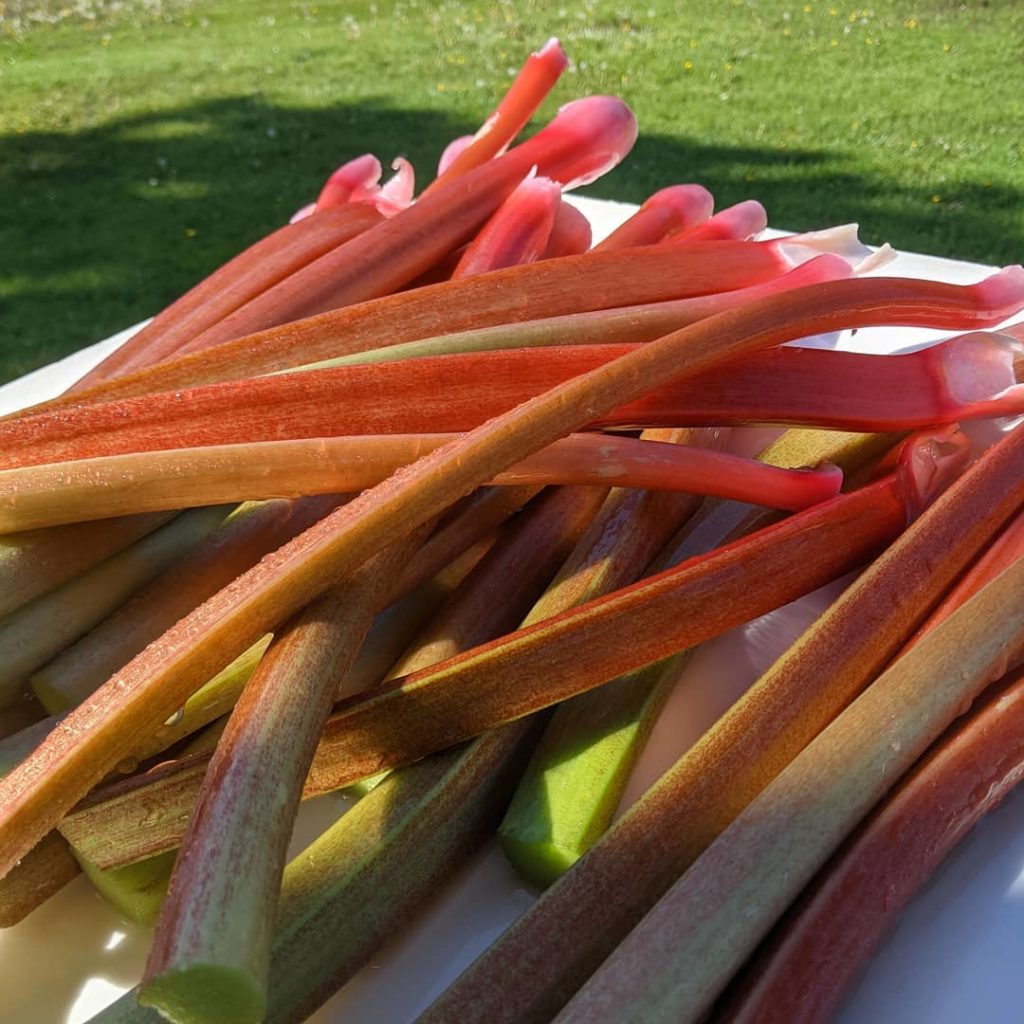 Rhubarb Cheesecake (incredibly delicious)
"Rhubarbeque" sauce (sweet/tart/hot brush-on sauce)
Gingered Citrus Rhubarb Jam (direct link to external website)
Rhubarb Cheesecake
We love this cheesecake. It's so fresh and delicious. The sharpness of the rhubarb really balances the sweetness of the cheesecake. Add some mint for a garnish!
This recipe is an adaptation of the original here: Original Rhubarb Cheesecake
Prep:20 mins Cook: 4o mins Total:1 hr 5 mins Servings:12 Yield:1 9-inch cheesecake
Ingredients
Crust:
1 ½ cups finely ground graham cracker crumbs
⅓ cup white sugar
6 tablespoons butter, melted
½ teaspoon ground cinnamon/nutmeg/lemon zest (Optional)
Filling:
3 cups chopped rhubarb
½ cup white sugar
1 tablespoon all-purpose flour
2 (8 ounce) packages cream cheese
½ cup white sugar
2 eggs
1 cup sour cream
2 tablespoons white sugar
1 teaspoon vanilla extract
lemon or orange zest (optional)
sprig of mint (optional)
Directions
Step 1 Preheat oven to 375 degrees F (190 degrees C). In a medium bowl, combine graham cracker flour, sugar, and melted butter. Mix until moistened and pat into the bottom of a 9 inch springform pan.
Step 2 Pre-bake crust in oven for about 7 minutes
Step 3 In a medium bowl, toss together the chopped rhubarb, 1/2 cup sugar, zest (if adding) and 1 tablespoon flour. Pour onto crust. Bake in preheated oven for 10 minutes. Remove from oven and set aside. Reduce oven temperature to 350 degrees F (175 degrees C).
Step 4 In a large bowl, beat the cream cheese and 1/2 cup sugar until creamy. Beat in the eggs one at a time. Pour over hot rhubarb in the pan.
Step 5 Bake in the preheated oven for 30 minutes, or until filling is set. Cover with sour cream topping while still hot.
Step 6 To make the sour cream topping: In a small bowl, combine 1 cup sour cream, 2 tablespoons sugar and 1 teaspoon vanilla. Mix well and spread on top of cake.
---
"Rhubarbeque" sauce
This is a great, savory, way to use rhubarb, AND it's just in time for BBQ season! It's a VERY simple recipe, so you can 'dress it up" a bit as you wish. I do suggest that you DON'T add ketchup to the recipe–I tried, and it doesn't taste quite right with ketchup. (I put ketchup in my other quick BBQ sauce recipes, but not this one).
This sauce is tart and sweet and hot, and quite sticky. It's great either for dipping or brushing on to the grill.
Prep: 5 mins Cook: 2o-30 mins Total:25-35 mins Yield: approx 1.5 cups of sauce
Ingredients
3-4 cups chopped rhubarb (about 1 pound)
1/4 cup cider vinegar
1 1/3 cups light brown sugar
1-2 tablespoons crushed red peppers (more if you like it VERY hot)
4 tablespoons powdered mustard (fresh is fine too, but will make the sauce thinner)
1 cup cranberries or golden raisins (optional)
Directions
Step 1 Chop rhubarb into 1/2″ pieces
Step 2 Pour rhurbarb into medium saucepan, with cider vinegar
Step 3 heat over medium-low heat until rhubarb softens
Step 4 add sugar, mustard and red pepper flakes (and cranberries/raisins if using)
Step 5 cook, stirring occasionally, until sauce is at desired thickness.
Step 6 Use on BBQ (great on anything you like to grill) immediately, or will keep for about a week in the fridge.